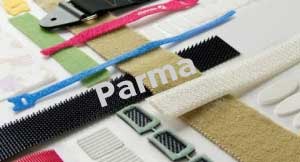 Professional Die-Cut Tapes Manufacturers in Delhi
Parma Impex Private Limited is a professional manufacturer, wholesale supplier, importer, exporter, and trader of Die-Cut Tapes in Delhi. Die-cut is a different method of cutting hook and loop as compared to strip cutting. At Parma Impex, we meet the die cutting requirements of our customers.
Professional Team of Experts
We have a comprehensive team of experienced professionals who utilize a clicking press to control the pressure distribution to the material and the die. We can die cut tapes into any shape as per the requirement or demand of our customers. We offer sew-on as well as pressure-sensitive tape to meet the various needs of our clients.
Wide Selection of Dies
We are deeply involved in meeting the die cutting requirements of our customers. Our die-cut tapes are made of high-grade basic material and is available in various colors. We have a wide variety of premade dies such as triangles, squares, round, half-round, both ends round, stars, bullet shapes and much more.